Brandon Community Club
Robotics Enrichment Program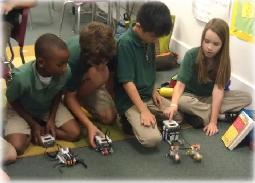 Enrollment is limited to twenty students
The club is open to 1st grade* and up.

.
Activity and Description
The Brandon Community Robotics Club meets weekly on Mondays (excluding school holidays) for 90 minutes from 6:00 to 7:30. Serving the Greater Brandon area, the club meets at Dani & Company. The Club is conveniently located near the corner of Kingsway and Windhorst.
Under the direction of Ms. Beasley (formerly Mrs. Shaw), the Robotics Club will offer an opportunity to learn teamwork, engineering skills, programming, problem solving, critical thinking skills and most of all - have fun - while learning STEM (Science, Technology, Engineering, and Math) concepts! Club members will use LEGO ®  MINDSTORMS ®  and other robotics tools to build robots and machines, program them to perform specific tasks, troubleshoot problems, and refine their strategies to address practical challenges.
Tuition is $199 per student for a ten-week program. Fall Session begins August 21st, 2017. Miss the start date? No Worries… Students may begin mid-session, provided there is still space available.
Kids at all experience levels will have an opportunity to participate in robotics activities using LEGO MINDSTORMS® and WeDo ®  robots. Beginners will start with the basics using tutorials to learn sound construction methods, programming and become familiar with the various components of the MINDSTORMS system. Once they have mastered the essential concepts, they'll discover increasingly sophisticated designs by building robots to compete in a number of project-oriented tasks, each designed to improve their programming and engineering skills.
We organize the kids into small groups based on age and experience. Each group chooses the challenges they wish to pursue. Students will engage in other related activities to build teamwork and allow them to interact outside of their immediate groups. Periodically, we will engage in whole-group activities that everyone participates in.
About the Coach

Shauna Beasley, certified International Baccalaureate, K-12, ELL and Gifted teacher, has worked with students of all ages. She is recognized by Hillsborough County Schools as one of the top 10% of all teachers for the entire district. Ms. Beasley provides an engaging curriculum and provides a nurturing environment for all students to allow them to reach their potential and express their creativity.
Enrollment is NOW OPEN!
Complete the enrollment form below. If enrollment exceeds the maximum of twenty students, students will be placed on a waiting list until spots become available. Once we have exhausted the waiting list, we will reopen enrollment for future sessions.
After completing this page, your child will be pre-registered for our program. Registration is complete once payment has been received. On the next page, if there is space in the club, you'll have the opportunity to pay online. Otherwise, you'll automatically be placed on the waiting list.